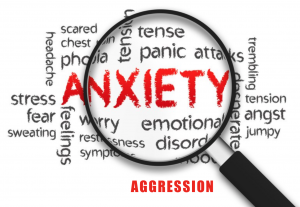 Aggression and anxiety manifest in many forms, and in most cases, it goes undetected and operates at subconscious levels; but it can have devastating and long-lasting negative implications that affect the success of your organization. 
Aggression, which can range from subconscious biases to fully conscious acts verbal (and even physical) random and targeted acts of violence. 
Anxiety can arise from unresolved fears relating to being valued, feeling safe, meeting performance expectations, and fitting in with the core cultural group. 
Managing, and ultimately exercising leadership within environments that show evidence of aggression and anxiety, is not an easy task. It almost always requires outside support to develop the social, relational, and deep emotional intelligence required to create a high performing culture. 
It can be done, but the first step is to acknowledge that the problem exists. And if you're not sure, then consider that you more than likely have a 'blindspot' to the problem, and you need to ask for help. 
WTHG will conduct a cultural assessment to confirm where unhealthy aggression and anxiety exists and we'll begin the process for safe conversation, and the greater awareness and humility that will allow new relationship breakthroughs to develop. We will coach, mentor, and expand your capacity to create an open, united, and focused high performing team.
The goal is to create an organization that exemplifies unity, purpose, and pride. Where success is evidenced by meeting and exceeding performance outcomes while delivering positive experiences for all colleagues and customers. 
Contact WTHG for a needs assessment, and we'll provide you with our Three Critical Steps to Creating a Winning Team.   
SaveSaveSaveSave
SaveSave
SaveSave
SaveSave
SaveSave
SaveSave
SaveSave